Media centre
Sharing life – inspiring stories of transplant patients and their lifesaving heroes. English edition 2015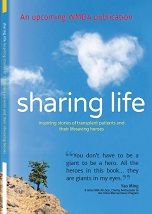 This book is about heroes donors who have donated their bone marrow or blood stem cells to save a stranger's life. Behind the scenes, there are amazing people who play an unseen but vital role in the journey these cells make from the donor to a patient: medical personnel, search coordinators, donor recruiters and couriers. Over 50% of the patients have received cells from a donor who lives in another country, and over 20 couriers each day travel across continents to bringing the precious gift of these cells to patients and their families, whose lives will soon be changed forever. Let your mind be opened, your heart touched and your spirit lifted as you read this collection of true stories about people who care, who have reached across boundaries of nationality, ethnicity and geography to make a real difference to the lives of patients in need.
"Everybody can be diagnosed with blood cancer. But on the other hand everyone can also help.
Whoever joins a stem cell register can become a life saver one day! The WMDA therefore
accomplishes a very important job. Which is why I support the worldwide fight against the
disease! One thing is for sure: We can only defeat blood cancer together."
Jérôme Boateng
World Soccer Champion and Ambassador of DKMS Soccer Project
Interested?
Order the e-book through this link
Do you prefer a paper version, send an e-mail to the WMDA office through this link
A gift for life – the essential WMDA handbook for stem cell donor & cord blood banks. English edition 2016.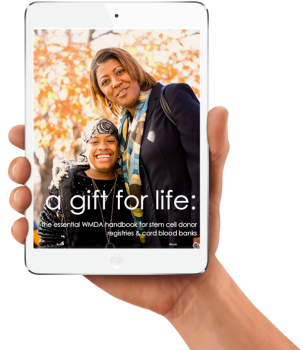 Since the first successful unrelated bone marrow transplant in 1973, over 300,000 unrelated blood stem cell transplants have been performed worldwide. This would not have been possible without the existence of blood stem cell organisations in many countries. Still, not all patients in need of a blood stem cell transplant are able to find a suitable donor or cord blood unit even today, which motivates people to start up new registries or cord blood banks in countries which do not have one yet. WMDA has developed a handbook which guides new organisations how to set up a registry or cord blood bank.
The second edition of a gift of life is available online. The benefits of the online version are:
Online: easy navigation between chapters, and clickable links
Updated: includes newest data and information
Exclusive available for free for WMDA members
Interested?
Join WMDA today and get free access to this unique book.
Un regalo para la vida – WMDA manual para la donación de celules madre sanguineas. Spanish edition 2014.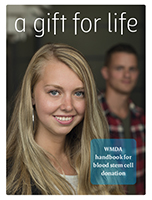 For Spanish speaking colleagues the first edition of the WMDA handbook is available in Spanish. Order your free pdf version of this book by sending an e-mail to the WMDA office.
Scientific publications
WMDA has published several recommendations and best practices over time. You can find an overview of these publications on WMDA Share.
WMDA Global Trends Report
Since 1997, WMDA monitors the worldwide activity of stem cell donor registries and cord blood banks. The results are summarized in a unique report which reflects the global stage of unrelated stem cell transplantation, like the number of donors and cord blood units listed worldwide and numbers of donations provided internationally and to which countries. The WMDA Annual Report 2017 is available free of charge for WMDA members. If you are not a WMDA member, you can contact the WMDA office for more details.